ARUP Laboratories is a CLIA-certified diagnostic lab. Supported by academia, ARUP is a leading provider of esoteric tests and medical discovery.
ARUP is a clinical and anatomic pathology laboratory owned by the University of Utah with scientific direction provided by academic medical faculty form the department of pathology. ARUP offers more than 2,000 tests, from routine screening tests to esoteric tests, including molecular and genetic assays.
ARUP's clients include many of the university teaching hospitals and children's hospitals in the U.S., as well as major commercial laboratories.
Since its formation in 1984, ARUP has founded its reputation on reliable and consistent laboratory testing and service. Working with ARUP, clients have access to over 30 years of esoteric testing expertise, and to more than 70 nationally and internationally recognized and trained pathologists, subspecialty-qualified clinicians, and board-certified clinical scientists.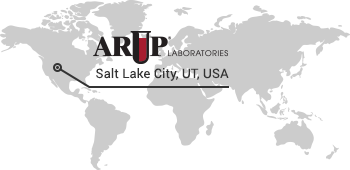 ARUP Laboratories
IOGS 393
500 Chipeta Way, mail code 393
Salt Lake City, UT 84108-1221 USA
Greenwich Mean Time (GMT-7)