Medical Consultation
A multi-national team of medical directors who hold faculty appointments at the University of Utah School of Medicine is available for consultation and result interpretation.
Tests are carefully selected for medical utility and quality by medical directors.
Many medical directors are involved in daily management of patients at the University of Utah hospitals.
ARUP has a diverse workforce and many of our employees and medical directors are fluent in more than one language.
Medical directors train medical students, residents, fellows, and graduate students in broad areas of pathology disciplines at ARUP.
Multimedia Educational Services
Through www.arup.utah.edu, ARUP offers open access to a variety of educational and scientific resources, including:
Video lectures by ARUP medical directors and guest speakers
How-to-videos for laboratory technologists
Case reports (surgical and anatomic pathology)
Clinically curated mutation databases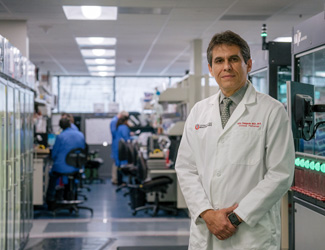 Research and Development
The ARUP Institute for Clinical and Experimental Pathology® drives the development of new and improved tests, as well as clinical research.