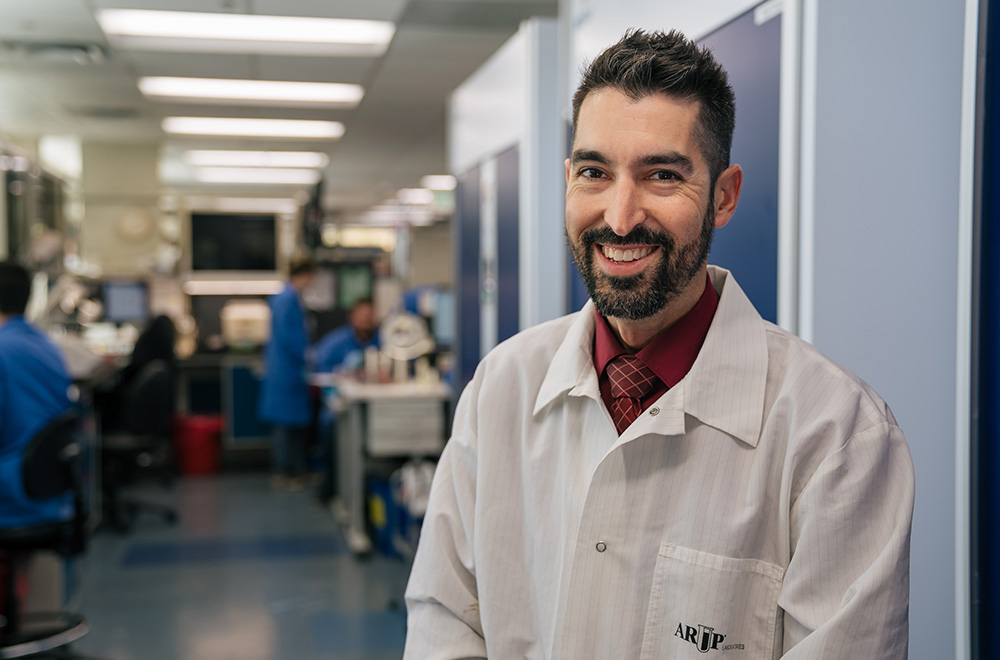 The coronavirus disease 2019 (COVID-19) pandemic has created unprecedented challenges for clinical laboratories and healthcare systems throughout the country. ARUP's medical and business experts are here to help you navigate through these challenging times.
Operational Assistance
If your organization finds itself in need of additional testing capacity due to staffing shortages, overburdened equipment, or for other reasons as the COVID-19 crisis evolves, ARUP may be able to assist by temporarily taking on additional testing or offering other forms of support until your operations can return to normal.
Consulting Services
The ARUP Consultative Services team is available for consultations about COVID-19-related operational adjustments and financial planning during this turbulent time. Whether helping to evaluate your disrupted revenue cycle or assisting you with revised market opportunity assessments, our consultants can develop a plan that works for you.
We will provide these services at little or no cost to existing clients.
Workflow evaluation and best practices
Outreach assessment and planning
Data analysis with actionable recommendations
Contact your account executive today to learn more about these and other ways ARUP can support you during this pandemic.
Support for Clinical Trials
The ARUP Pharma Services team is available to support COVID-19-related clinical trials. To discuss your clinical trial needs with our team, email clinicaltrials@aruplab.com.
Frequently Asked Questions about ARUP Operations
How will reduced flight schedules affect my shipments to ARUP?
All commercial airlines officially reduced their flight schedules effective April 1, 2020. This means we are transitioning more of our shipments to FedEx, which has assured us that it has capacity for our volume and is prioritizing medical cargo.
With the transition of more of our shipments to FedEx, we are working closely and proactively with our courier partners to adjust pickup schedules as needed. In some cases, there will be fewer pickups temporarily because there are far fewer flights.
As changes occur, our transportation team will contact you directly to establish new transportation schedules.
What is ARUP doing to ensure there will be no disruption in services during the pandemic?
To mitigate the risk of experiencing a significant disruption of service during the COVID-19 pandemic, ARUP has instituted additional safety measures to protect our workforce from exposure, and our management is taking steps to ensure that all additional measures are enforced.
Here are some of the many measures we have taken:
We have restricted entrance to our laboratory buildings to essential personnel. Most nonlaboratory employees are working from home.
Building access is denied to anyone with a fever or symptoms of a respiratory virus or other illness.
Our on-site Family Health Clinic is evaluating and testing any symptomatic employees. In the event of a positive test, contact tracing and testing will be provided to coworkers and family members.
Meetings are being conducted online or by telephone whenever possible.
To enforce physical distancing requirements, seating in common areas, including the cafeteria, has been reduced or removed.
Employees are required to complete mandatory training about physical distancing.
Work schedules are being continuously evaluated to identify opportunities to stagger shifts to minimize the number of employees working at the same time whenever possible.
Workstations have been assessed and reconfigured where necessary.
Engineering controls and PPE are distributed when and where physical distancing is not possible.