Hepatitis Delta Virus by PCR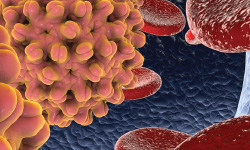 Hepatitis D is caused by a defective virus, hepatitis delta virus (HDV), which requires hepatitis B virus (HBV) for complete viral replication and infectivity. As a result, individuals infected with HDV are always infected with HBV. Transmission of HDV occurs via contact with infected blood and other body fluids. An estimated 5 percent of HBVinfected individuals worldwide are infected with HDV.
HDV can be acquired at the same time as HBV (acute co-infection) or subsequently in an individual who is chronically infected with HBV (superinfection). Co-infection may result in a range of clinical manifestations, from subclinical changes in liver enzymes to fulminant hepatitis. In the majority of cases, co-infection does not progress to chronic hepatitis. On the other hand, superinfection is more likely to result in persistent HDV
Test Code
Test Name
Collection Requirements
2013881
Hepatitis Delta Virus by Quantitative PCR
Test Highlights
Only commercially available quantitative RT-PCR assay for hepatitis D virus
Quantitative range of this assay is 2.1–6.8 log IU/mL (120–5,800,000 IU/mL).
Hepatitis D RT-PCR should be considered in an individual with:

Recent documented infection with hepatitis B virus
Acute or aggressive hepatitis and known chronic hepatitis B virus infection
Other scenarios as clinically indicated
Additional Information
Diagnosis of HDV confirmed by detection of HDV RNA in serum. In addition to confirming the diagnosis, viral load testing is helpful for monitoring HDV replication and evaluating the efficacy of treatment.
A negative test result does not rule out HDV infection. Diagnosis of HDV infection should not rely solely upon the result of an RT-PCR assay. A positive result should be considered in conjunction with clinical presentation and additional established diagnostic tests before establishing a diagnosis.
Serologic testing is recommended for the diagnosis of HDV. Total HDV antibody (IgG and IgM) can be detected approximately four weeks after infection. To assess acute infection, repeat testing may be needed to confirm seroconversion. To differentiate co-infection from superinfection, HBV core IgM testing is also required. The presence of HBV core IgM suggests recent HBV infection, thus indicating HDV co-infection.