Contact ARUP
Client Services

Available 24 hours per day:
(800) 522-2787
(800) 522-2706 (fax)

Client Services Inquiries
Test Availability Inquiry
General Inquiries
clientservices@aruplab.com
Corporate Contact Information

ARUP Laboratories
500 Chipeta Way
Salt Lake City, UT 84108-1221
(800) 242-2787
(801) 583-2787
(800) 522-2706 (fax)

HIPAA Compliance and
Privacy Officer
Karen Gauna, CT(ASCP)
(800) 242-2787, ext. 2063
Email
Employment
Directions to Our Corporate Offices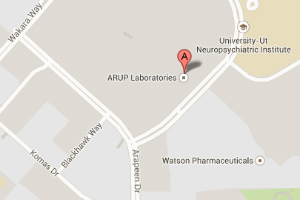 View directions in Google Maps
Browser and Software Support
ARUP Website and ARUP Connect Supported Browsers
Correspondence may be sent to our Human Resources Department.
Email
Sales Information
To contact the ARUP account executive in your area, please call Sales Support @ (800) 242-2787, ext. 2231, or Email us.
Media Contact
(800) 242-2787, ext. 3635
Email Media Team at ARUP
Webmaster