Welcome to ARUP Clinical Chemistry
For more than 30 years, ARUP's Clinical Chemistry laboratories have provided a wide breadth and depth of tests from routine to esoteric. Automation, including in-house developed technology, is an integral part of these laboratories. ARUP's automated systems allow for rapid turnaround times, optimal efficiency, and the best quality the industry has to offer. Automation has helped ARUP achieve Six Sigma quality levels
Board-certified medical directors are available to answer client questions and consult on laboratory stewardship efforts. Please contact ARUP Client Services at (800) 522-2787 for test inquiries or to arrange a consultation.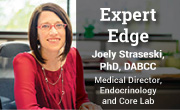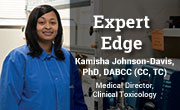 ARUP News
Chronic Kidney Disease and Improving Diagnoses (blog) Thirty million people have chronic kidney disease (CKD), but only 3.6 million know they've got the disease. With few early symptoms, people may not realize they have the disease until their kidney function is significantly depleted. That can be fatal without dialysis or a kidney transplant.
Fertility, the Biological Clock, and the AMH Hormone (blog) While slowing down a woman's biological clock remains as futile as turning back time, reproductive medicine is finding a way to peer inside the clock to gauge just how fast it is ticking.
Kidney Stones Very Scary True Stories and Entombed Mysteries One in eleven Americans will experience kidney stones at least once in their lifetime, and if preventative measures aren't taken, at least half of those will have another episode within ten years.